Bulk Vanilla Extracts for food & drink manufacturers, commercial bakeries, caterers and trade.
Vanilla is the most popular flavouring in the world, used in thousands of recipes for cooking, baking and desserts. We supply bulk vanilla extract to the food & drink trade. We have vanilla products tailored to food & drink manufacturers, bakeries and caterers.
View Vanilla Extracts
Request Samples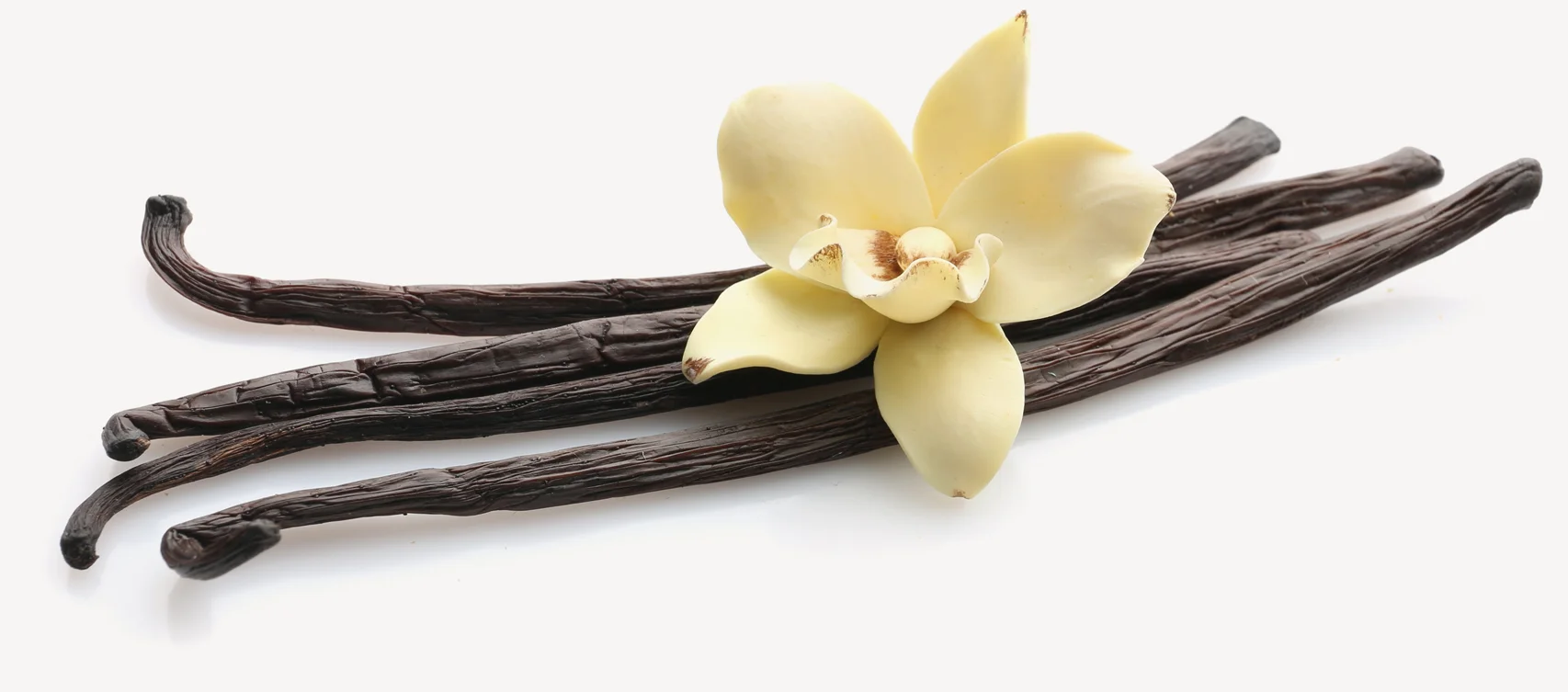 Vanilla Extract In Stock
Purchase vanilla extract from stock, no lead times. Ready when you are.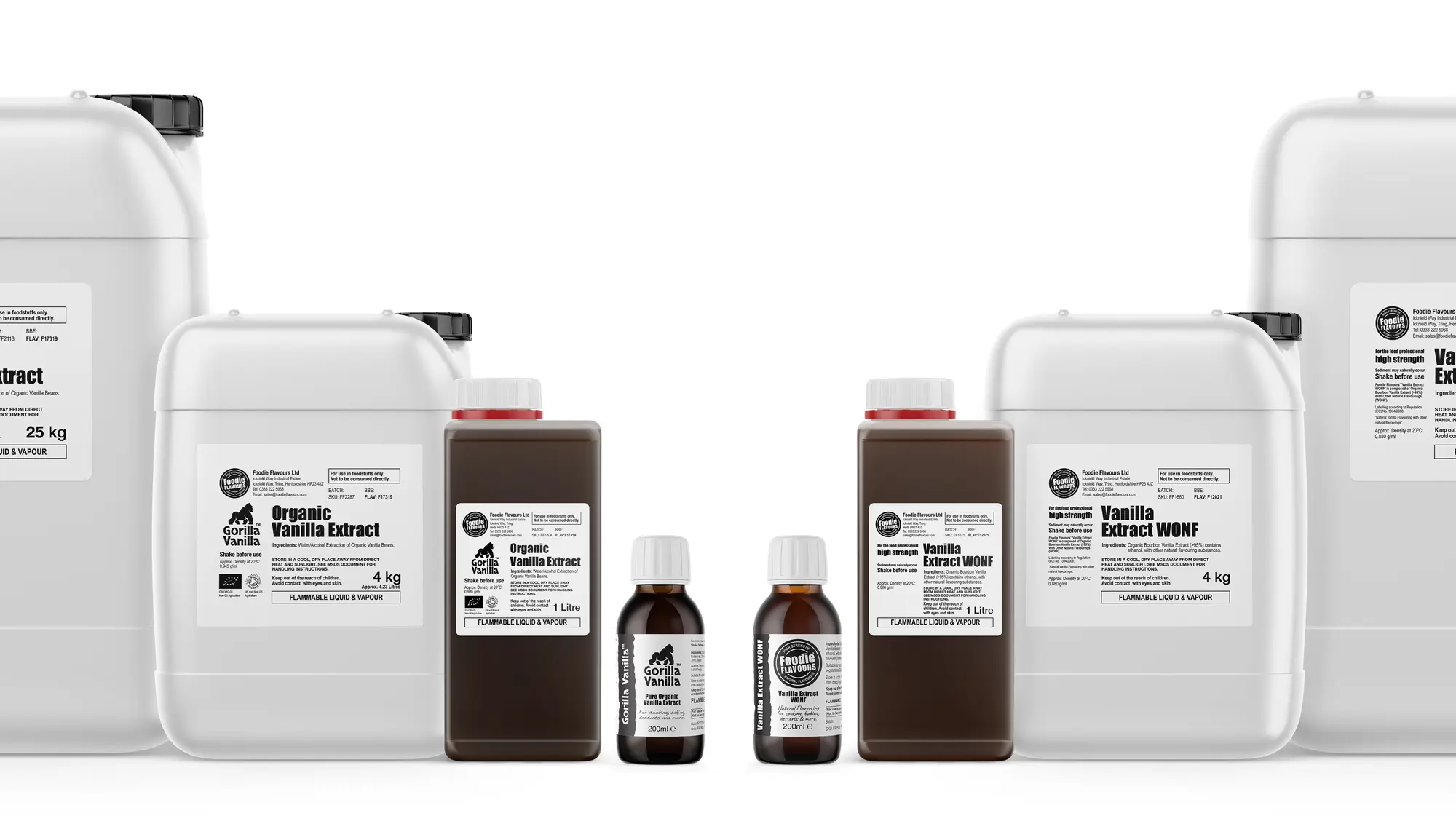 Speedy Dispatch
We dispatch Monday-Thursday on a next day service for UK mainland addresses.
Accredited
Manufactured to SALSA Standards. Organic certified by the Soil Association.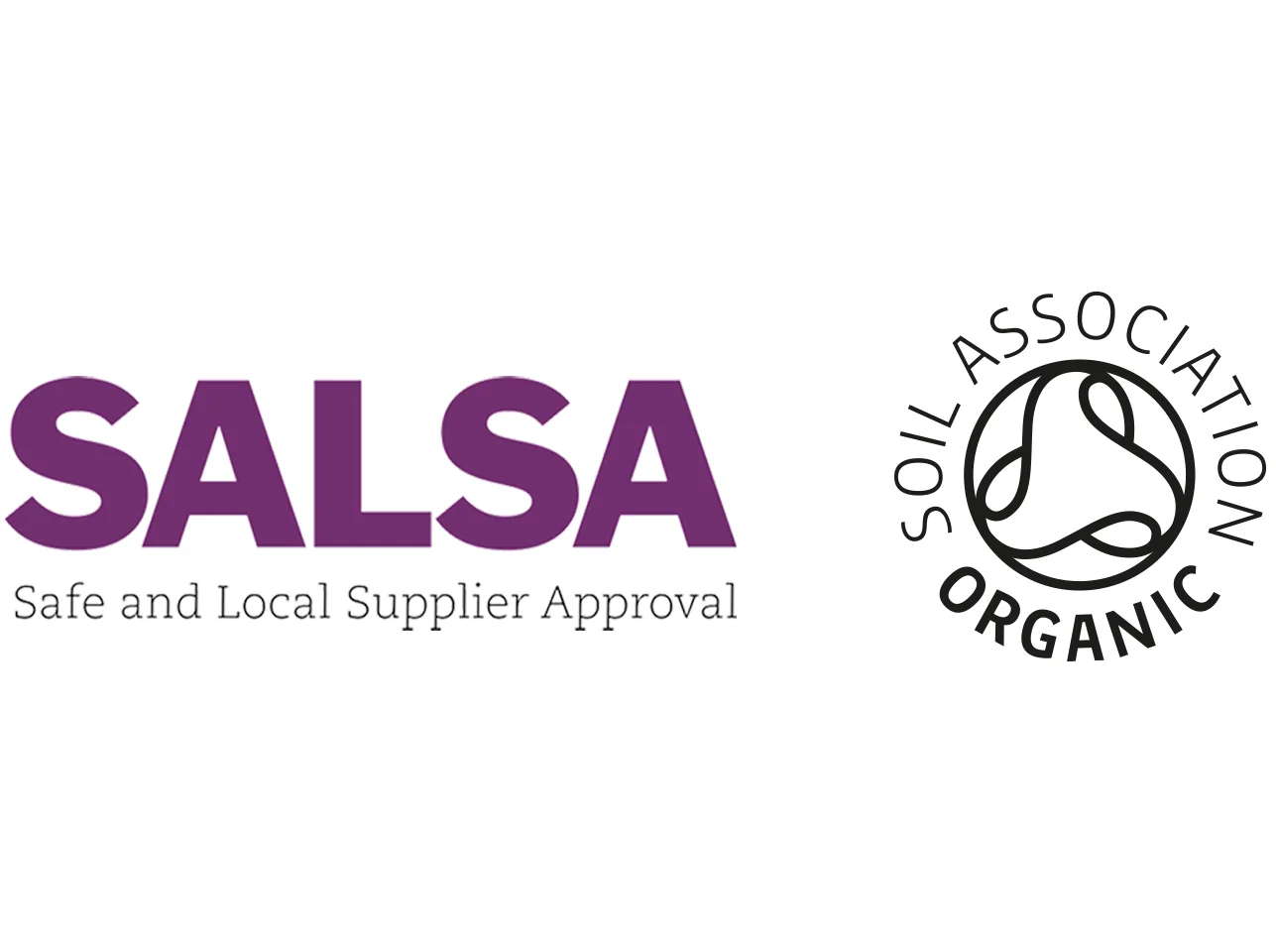 Gorilla Vanilla – Organic Vanilla Extract
Rich Organic Vanilla Extract for the Food & Drink industry. Sweet Ugandan Vanilla adds a luxuriously rich vanilla taste. Ideal for premium food or bakery businesses.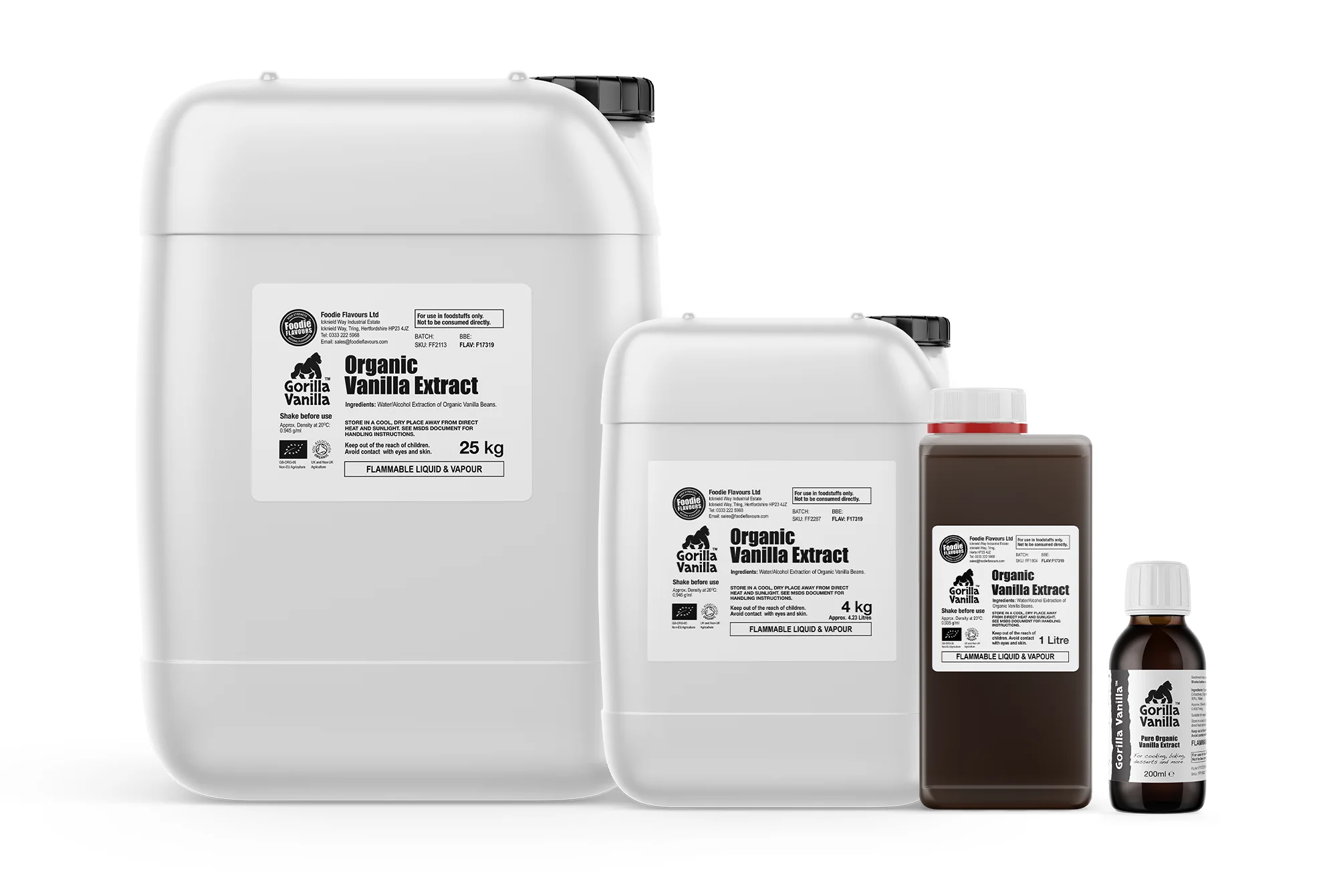 Bourbon Vanilla Extract WONF
Bourbon vanilla extract blended with natural flavourings. A cost effective solution if you are buying Vanilla Extract for general bakery and food applications.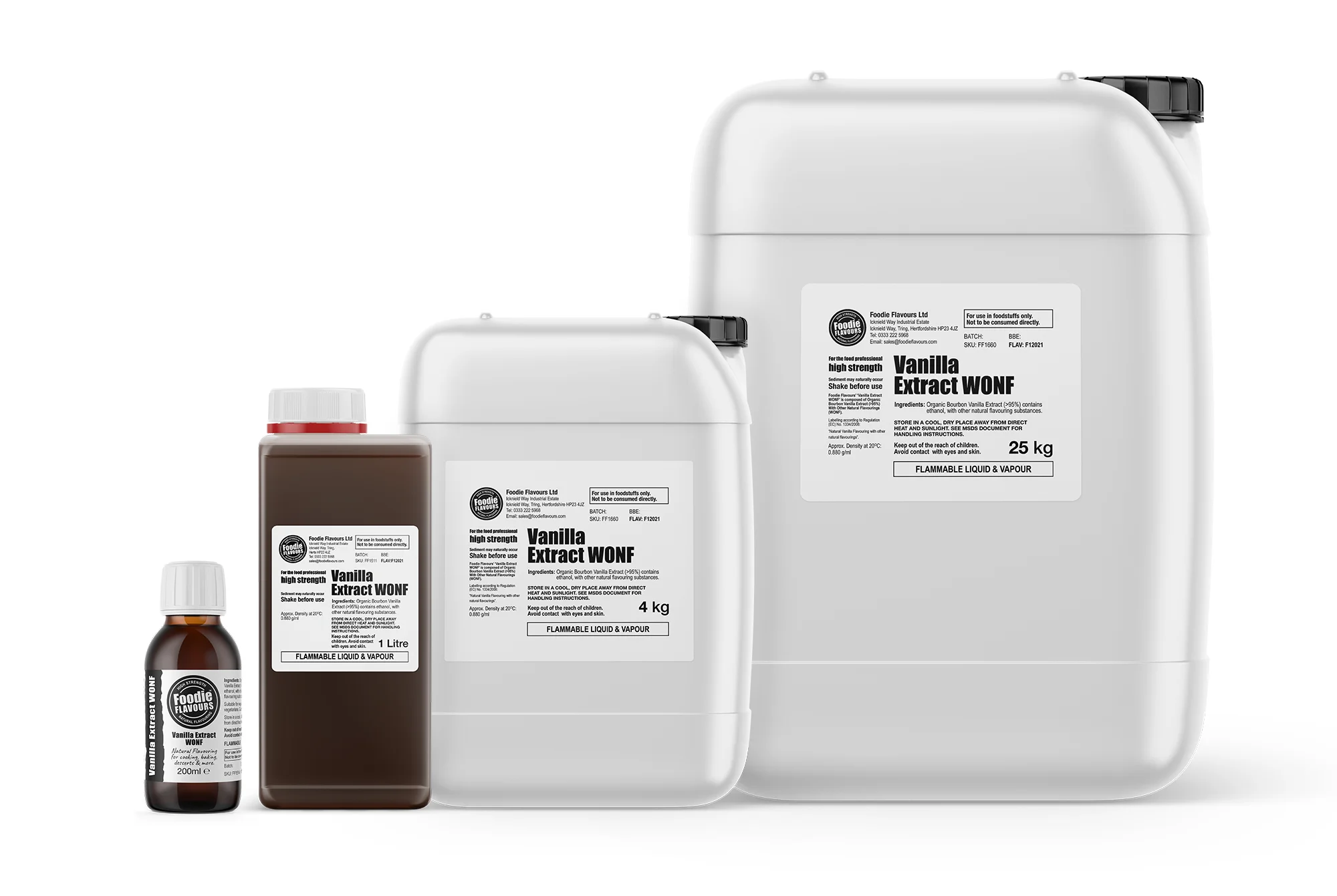 More about this Organic Vanilla Extract
This Organic Vanilla Extract is certified by the Soil Association and therefore meets their strict standards to ensure you get the genuine organic ingredient your customers demand.
We source Organic Vanilla Beans from select growers in Uganda, where the vanilla crops are specially pollinated, harvested and cured to increase vanillin content. Because of this our extract has a deep, rich taste which vanilla lovers crave. We then extract these vanilla beans at our UK extraction facility to produce the final 'Gorilla Vanilla' product.
Gorilla Vanilla is just pure Vanilla Extract – meaning there are no added sugars, syrups or flavourings. You simply get what it says on the label – Organic Vanilla beans extracted into water and organic alcohol.
The aroma and rich taste of this Organic Vanilla Extract has excited our commercial customers who have been keen to use it in ice cream, baked goods, biscuits, cakes, cheesecake, custard, creams, fillings and much more. Due to our regular extraction schedule Foodie Flavours can supply bulk vanilla extract from stock, helping you with shorter lead times for this quality Organic Vanilla Extract.
More about this Vanilla Extract WONF
This Vanilla Extract WONF provides a cost effective 'Natural Flavouring' ingredient because we blend Vanilla Natural Flavouring  with a single fold Bourbon Vanilla Extract (<95%). This addition results in a boost the vanilla notes while keeping the extract content at a lower price point.
Our commercial customers have welcomed this ingredient because of its taste profile and lower cost in use compared to an Organic Extract. Ideal for general bakery and dessert applications where a 'Natural Flavouring' vanilla ingredient is required.
Looking for larger volumes or Have any questions?