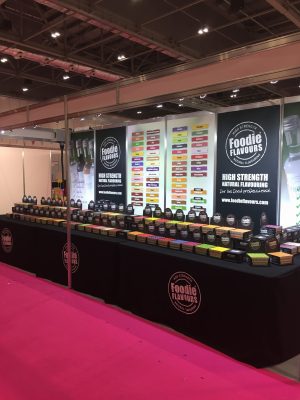 We had another great weekend at The Cake & Bake Show this year in London at EXCEL, it was wonderful to see some familiar faces again and meet some new  ones. There were some fantastic highlights this year, it was loverly to see Naydia up on the main stage with her cooking demos along with some of the other great chefs and confectionary celebrity.
Our most popular fruit flavours were the ever popular passion fruit, the orange and our lemon. As for our retro flavours Bubble gum and Candy floss stole the show. Besides those our high juice Raspberry, rich pistachio and caramel were also big sellers. Although our stand out flavour of the show has to be one of our latest additions to the foodie flavour family, Sweet Hazelnut & Chocolate was an instant hit with customers.
Overall we had a brilliant show and loved seeing you all, we look forward to seeing you and meeting more at our next show.