Light, soft and exceptionally moist vegan pistachio cake with a sticky sweet orange caramel syrup!
Cake:

1/4 cup (40g) coconut oil
2 tblsp ground flax seeds
1 + 3/4 cups (250g) plain flour
2 tsp baking powder
1 tsp bicarbonate of soda
1/2 cup (95g) coconut sugar
1/4 cup (30g) pistachios – shelled weight – very well chopped, either by hand or in a food processor
2 bananas
1/2 cup (120ml) unsweetened almond milk
1 tsp apple cider vinegar
1/4 cup (80g) Caramel Syrup
20 drops Foodie Flavours pistachio essence

Syrup: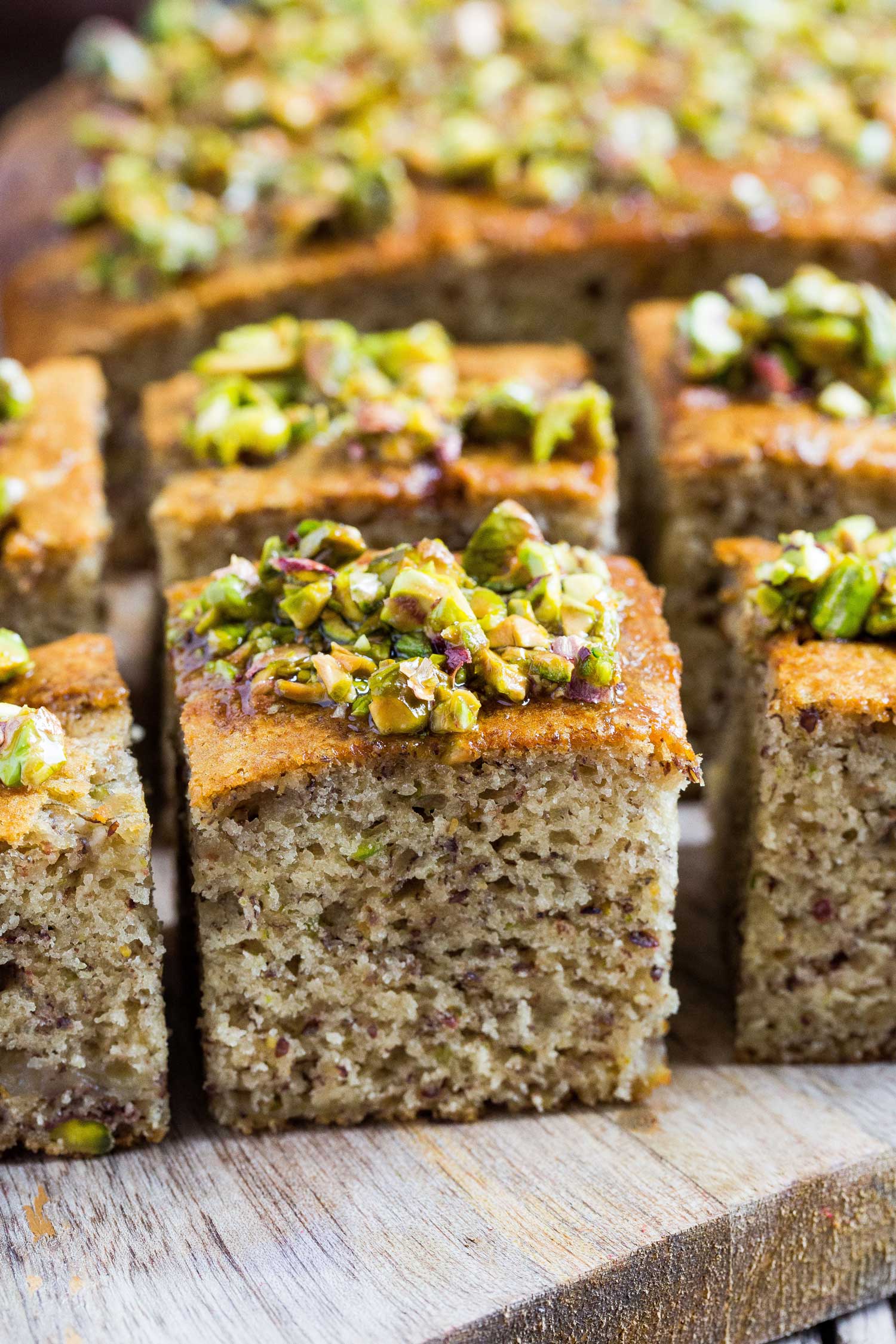 Preheat your oven to 160 Fan / 180 C / 350 F / Gas 4 and line a 7 x 9 inch (18 x 23 cm) tin with parchment, covering the base and sides
Melt the coconut oil and set aside to cool
Mix the ground flax seeds with 1/3 cup (80ml) cold water and set aside too
In a large bowl put the flour, baking powder, bicarb, sugar and ground pistachios. Stir together until well mixed
Peel and break the banana into chunks in another bowl. Mash well with a fork or potato masher
Add the milk, vinegar, caramel syrup and pistachio essence and whisk together
Whisk in the flax/water mixture and the melted coconut oil then stir this into the bowl of dry ingredients, mixing very well together, ensuring no pockets of flour remain
Pour into your prepared tin, level the surface then bake for 35-40 minutes until a skewer or cocktail stick inserted in the centre comes out clean, if not return to the oven for a few more minutes until completely baked. It should be a light golden brown colour
While it's baking mix together the roughly chopped pistachios, caramel syrup and orange essence.
Leave the cake to cool in the tin for 30 minutes before carefully lifting out onto a wire rack to cool completely. Spoon over the caramel/pistachio mixture
Cut into 12 squares and store in an airtight container once completely cold
Top Tip: This is delicious served warm with ice cream.