These Xmas Pudding Muffins are the perfect winter treat topped with rich and fluffy Irish cream frosting
The beauty of these vegan muffins is you can have them with or without the fruit but still have all that wonderful Christmas pudding flavour thanks to Foodie Flavours Xmas Pudding little bottle of wonder. It's super intense and you don't need much to give you the most amazingly rich Christmas pudding flavour and smell.
Same with their Irish Cream flavouring I've used in the vegan buttercream frosting.  The essence gives the most wonderful Irish cream flavour at a fraction of the cost and because it's only a few drops we're using it doesn't upset the balance of the frosting recipe.
The muffins themselves are ridiculously easy to make.  Mix together a bowl of dry ingredients and a jug of wet ingredients then mix the two together, pour into your festive muffin cases and bake. In fact, you could probably even just mix the whole lot together in a blender to make it EVEN easier.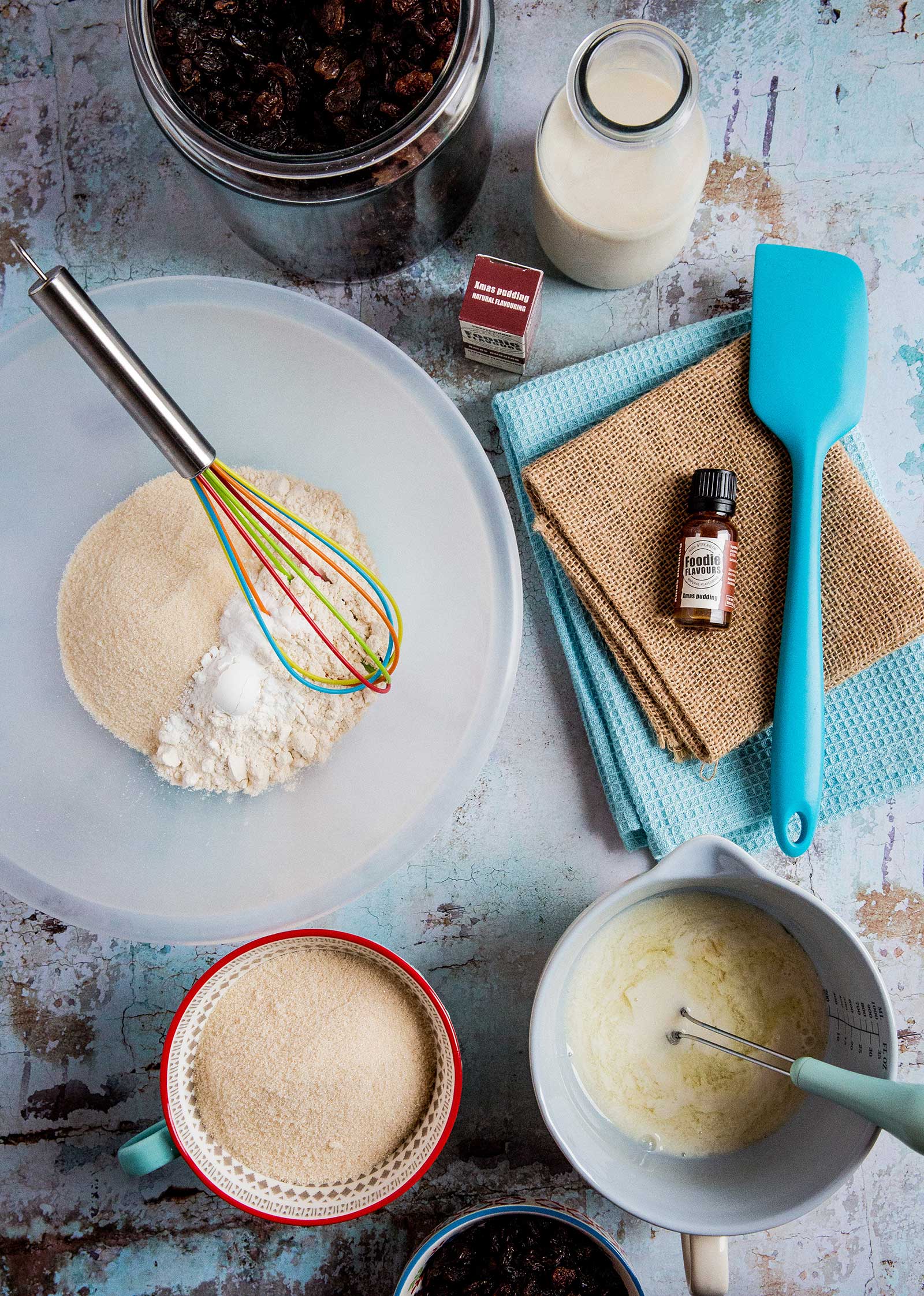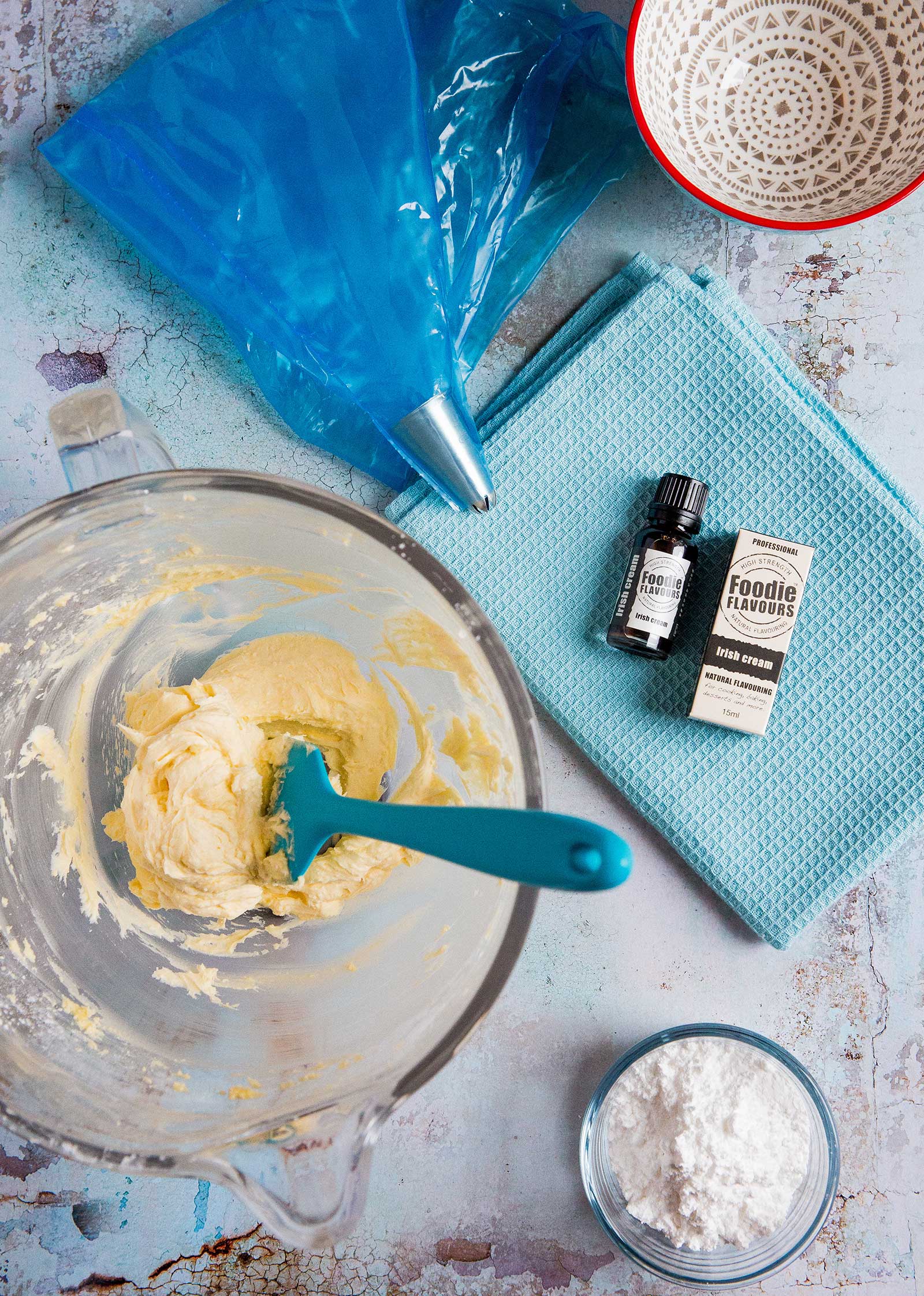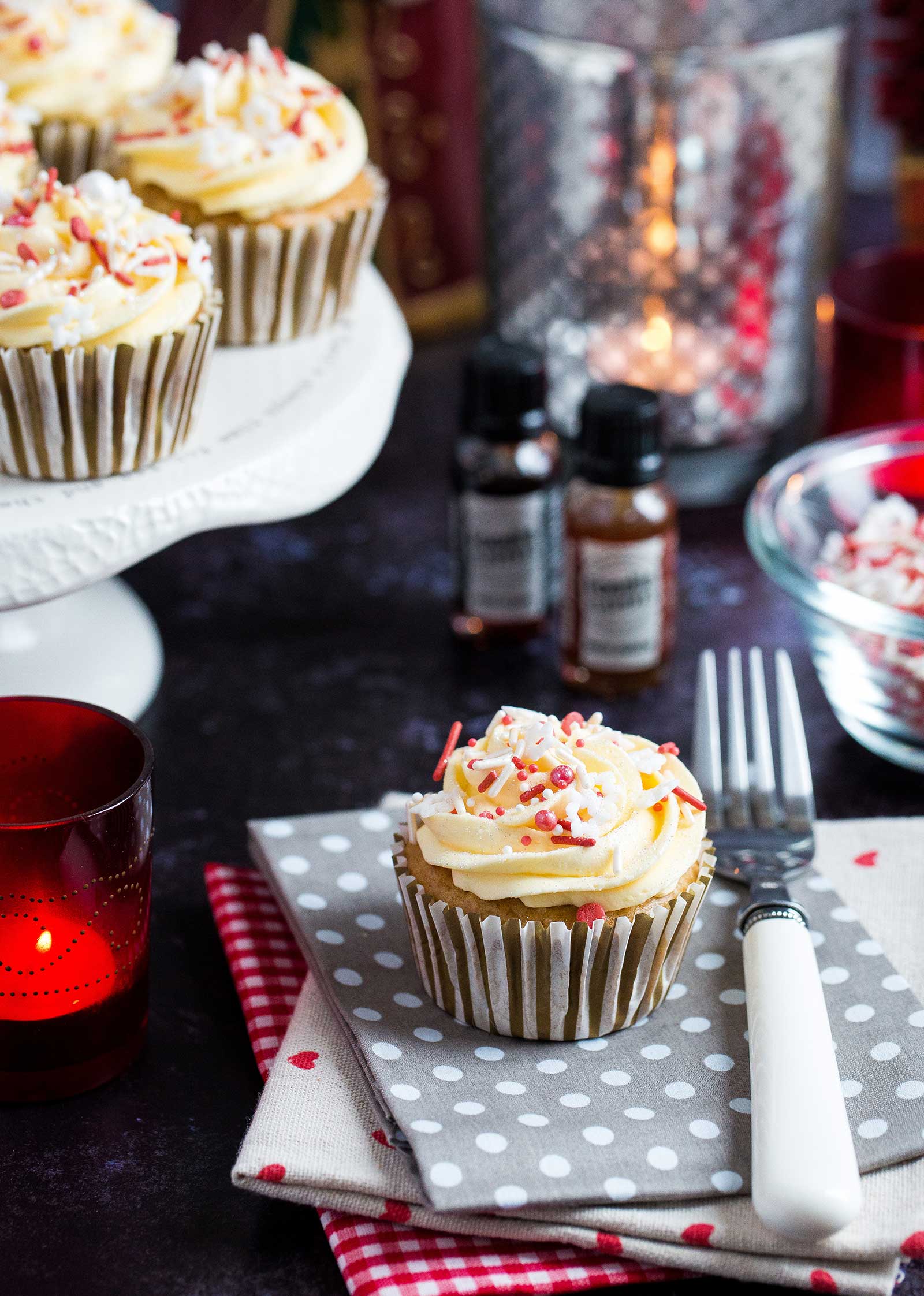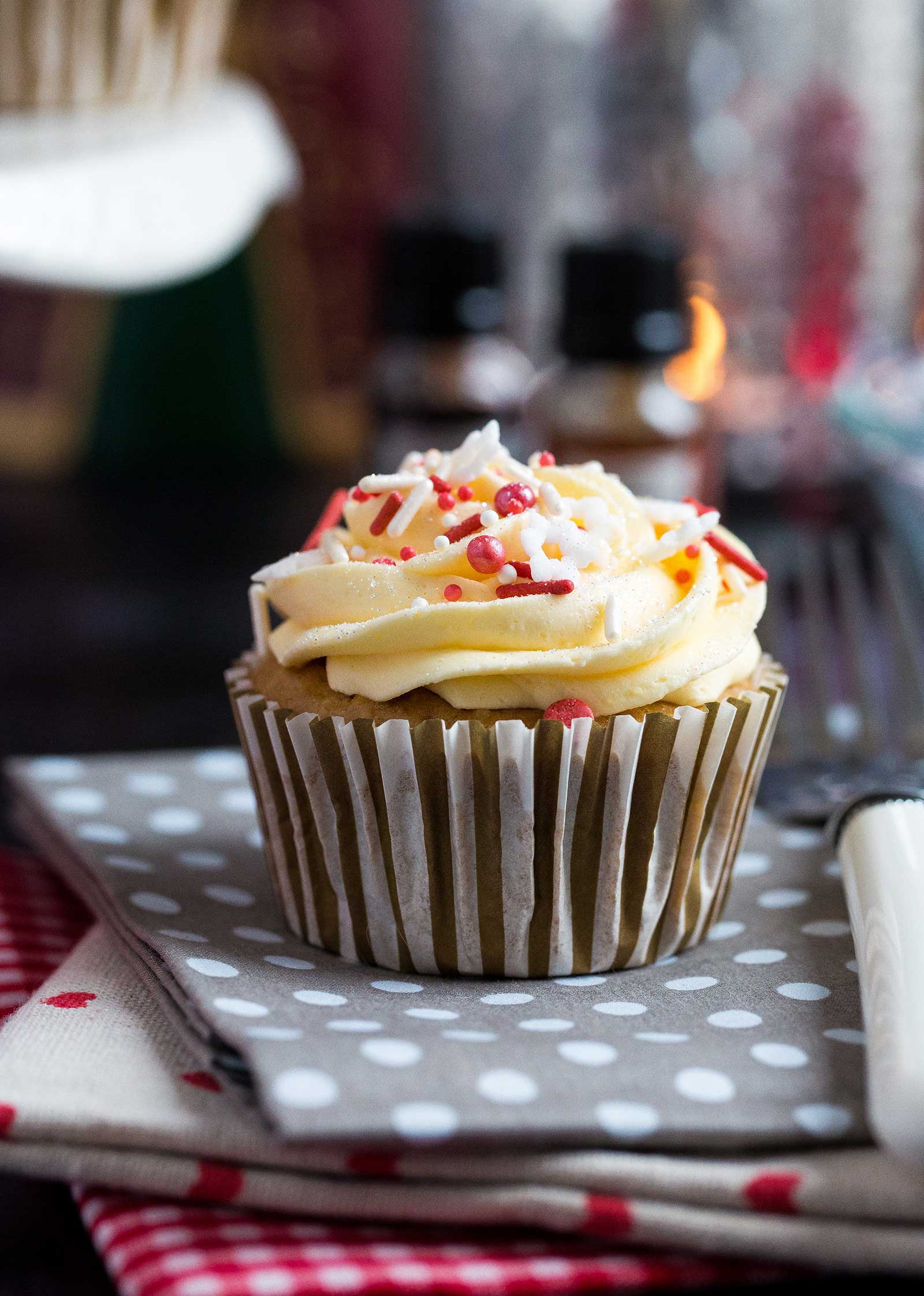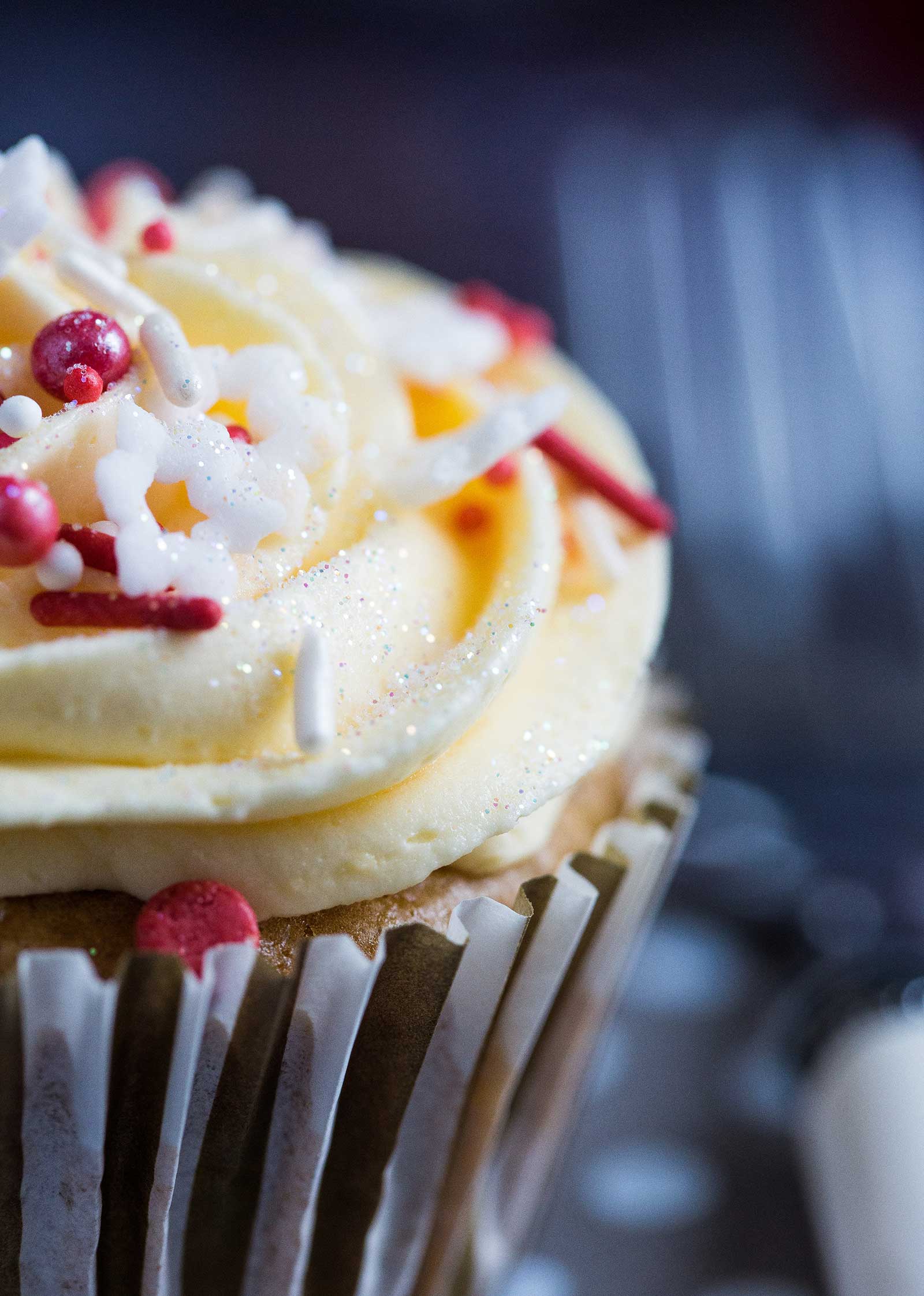 Muffins

1/2 cup (120ml) unsweetened almond milk
1/2 cup (120ml) coconut yoghurt
1 tsp apple cider vinegar
20 drops Foodie Flavours Xmas Pudding
1 + 1/4 cups (180g) plain flour
1 tsp baking powder
1/2 tsp bicarbonate of soda
1/2 cup (100g) golden caster sugar
1/2 cup (80g) sultanas
Preheat your oven to 180 Fan / 200 C / 400 F / Gas 6 and line 10 muffin holes with cases
In a bowl or jug put the almond milk, yoghurt, vinegar and Foodie Flavours Xmas Pudding, give a quick whisk and leave to 'curdle' slightly while you prepare everything else
Into a large bowl sieve together the flour, baking powder and bicarbonate of soda
Stir in the sugar
Add the milk and vinegar mixture to the large bowl and stir everything together until well mixed, stirring up from the bottom of the bowl so you don't miss any flour 'pockets'
Evenly divide between your cases – filling each one roughly 2/3 full then bake for 22-25 minutes. Use a skewer or cocktail stick inserted in the middle of one of the cupcakes – if it comes out clean with no raw dough clinging to it the cupcakes are cooked. If not, just return to the oven for a few more minutes
While they're cooking make the icing – beat together the butter, icing sugar and Foodie Flavours Irish Cream until pale and fluffy. Spoon into a piping bag fitted with a star nozzle
Once the cupcakes are cooked, leave them to cool in the tin for 5 minutes before transferring to a wire rack to cool completely
Once they're cooled pipe swirls of icing on top of each cupcake then add your sprinkles
Store in an airtight container
Visit The Cook & Him for more details on this recipe.