These vegan blondies are a delicately light vegan sponge filled with walnuts, chocolate chips and Cookies and Cream natural flavouring. They're also dangerously moreish!!
If you're wondering what the difference between a brownie and a blondie is it's actually quite simple.  A blondie is a brownie without the chocolate!  So instead of rich cocoa, a blondie gets its flavour from vanilla and brown sugar – making an almost butterscotch like flavoured sponge.  For these vegan blondies I wanted to switch the flavour up another level with Foodie Flavours natural essence.  Specifically their Cookies and Cream.
Oh my goodness the smell of this not only in the bottle but while it was baking was almost intoxicating.  It was one of those typically wet British mornings and all I wanted to do was throw open the doors and windows so that the whole street could get a smell!
I've used a variety of Foodie Flavours different essences and flavourings now and each one I think 'ooo this is my new favourite'.  They are SO good and so versatile.
2 tblsp ground flax seeds
1 + 3/4 cups (250g) plain flour
1 tsp baking powder
1 cup (180g) golden caster sugar or light brown sugar
1/4 cup (30g) walnuts – broken or chopped into small pieces
1/4 cup (40g) dairy free dark chocolate chips
1 cup (250 ml) unsweetened almond milk
1/3 cup (60g) vegan butter
Optional extra toppings
1 tblsp walnuts – broken or chopped into small pieces
1 tblsp dairy free dark chocolate chips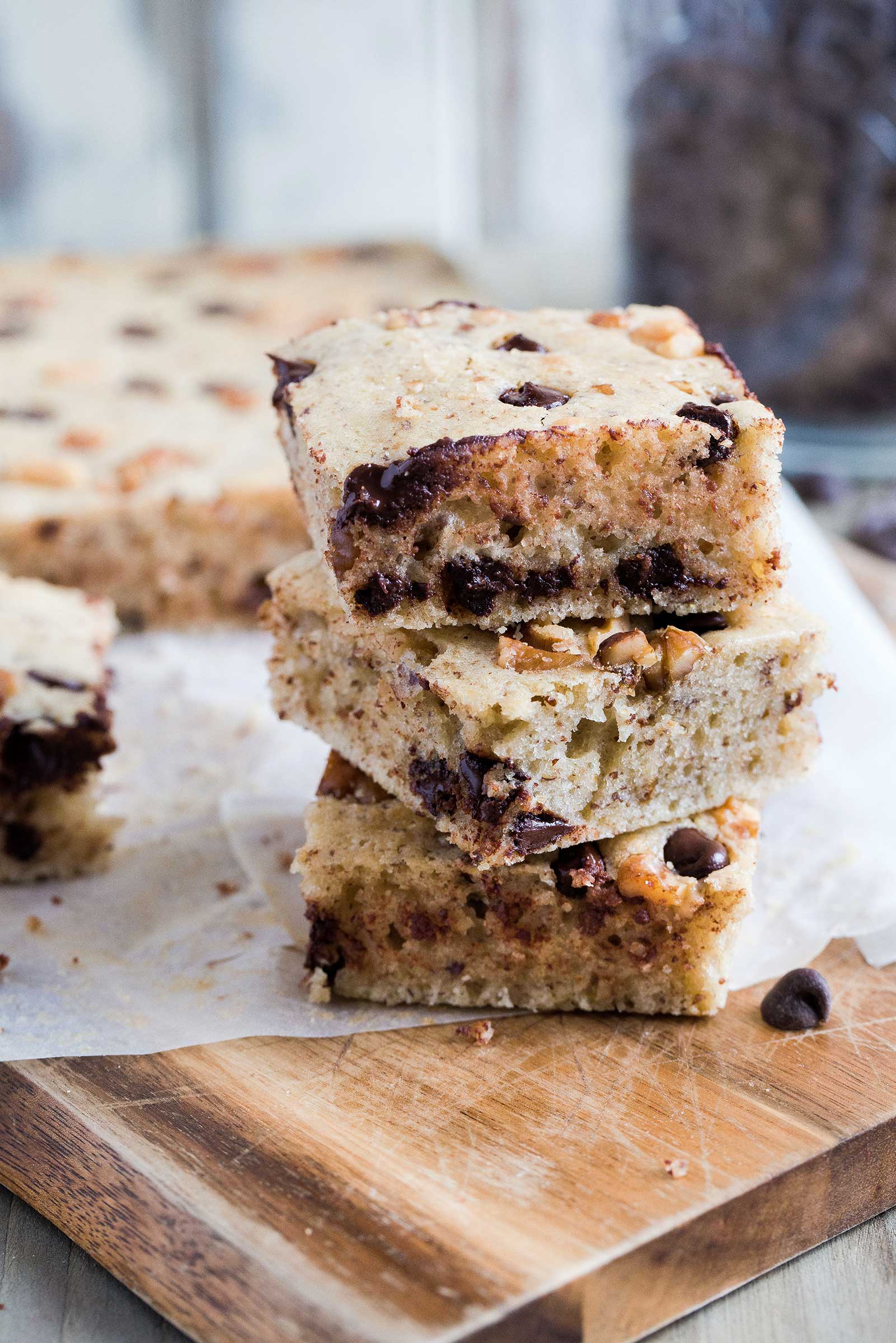 Preheat your oven to 180 Fan / 200 C / 400 F / Gas 6. Use a little vegan spread to brush the inside of a 7 x 11 (18 x 28 cm) brownie tin then coat with flour, tapping out the excess. I also lay a piece of cut parchment in the base of the tin as this makes it SO much easier getting the blondie out!
In a small bowl or mug put the ground flax seeds with 1/3 cup (85 ml) of cold water. Mix well and set aside
Sift the flour and baking powder together into a large bowl then stir in the sugar, walnuts and chocolate chips
In a jug or bowl whisk together the almond milk and Cookies and Cream flavouring then whisk in the flax egg
Melt the vegan butter then whisk into the milk mixture
As soon as you've whisked in the butter to the milk pour this into your bowl of dry ingredients and using a large rubber spatula mix everything together well. Mix up from the bottom of the bowl so that you don't get any 'pockets' of flour
Pour the batter into your prepared tin and smooth to the edges. Sprinkle with the extra chopped walnuts and chocolate chips if you're using them
Bake for 30-35 minutes until risen, springy to the touch and lightly golden
Allow to cool in the tin (for as long as you can stand the smell without eating it!!) before lifting out onto a board and cutting into squares
Allow to cool completely before storing in an airtight container